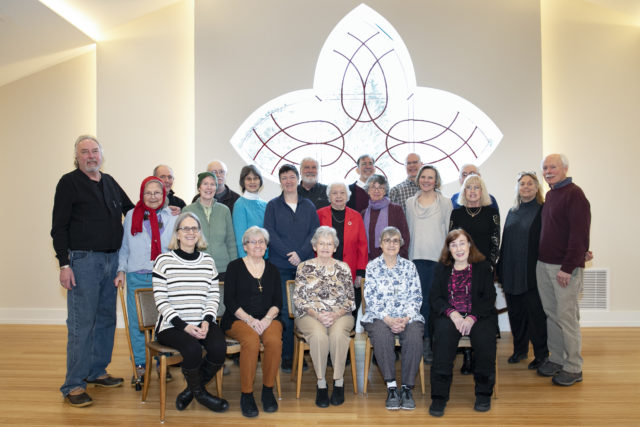 We Are a Church of Open Doors
"Church" is people. We recognize and believe that congregation numbers, ages, or genders do not matter when it comes to God's indiscriminate love. Led by God's Spirit of love and hospitality, we became an Open and Affirming Congregation. We publicly and explicitly welcome persons of all sexual orientations and gender expressions. No matter where you are on your life's journey, you are welcome here.
We Come Together for Praise and Fellowship
We continue to explore ways to make our Sunday worship a source of inspiration and times for praise and spiritual growth. We blend tradition and innovation, incorporating the ideals of the UCC, such as working for social justice and the responsible stewardship of the planet, in all that we do.
We Love Music
Music plays an important part of our worship, and we welcome musical expression of any variety. As our music director said, "It seems as if half the congregation participates in the choir. We don't always know who will be at church each week, so sopranos may become altos, altos may become sopranos or even tenors, but we always end up with our anthem."
We Believe in Mission
We give locally and worldwide. From monetary support to organizations such as the Canaan Protective Fire Company and Centro Integral de la Familia in Ecuador to donating food to the Chatham Area Silent Pantry, we are a giving group of people.
We Remember and Cherish Our History
Canaan Congregational Church was organized in 1785, and the original church building was erected in 1829 from bricks made from the clay of a Canaan farm. While we loved our historical church building and recognized its significance in our community, we are thrilled to be in our new space, which is full of light. We embrace our tradition of service to the community and the world. We eagerly move beyond our four walls and try to make a difference in this 21st-century world. We are much more than a building: We are "CHURCH"— people helping people.
Mission Statement
As part of the Church Universal,
We are called by God to discipleship,
To proclaim the Gospel through
Worship and teaching,
To encourage spiritual exploration
And fellowship in a dynamic
And accepting atmosphere,
To share our talents and gifts
In service to our community
And to the world,
Humbly following Christ's example.